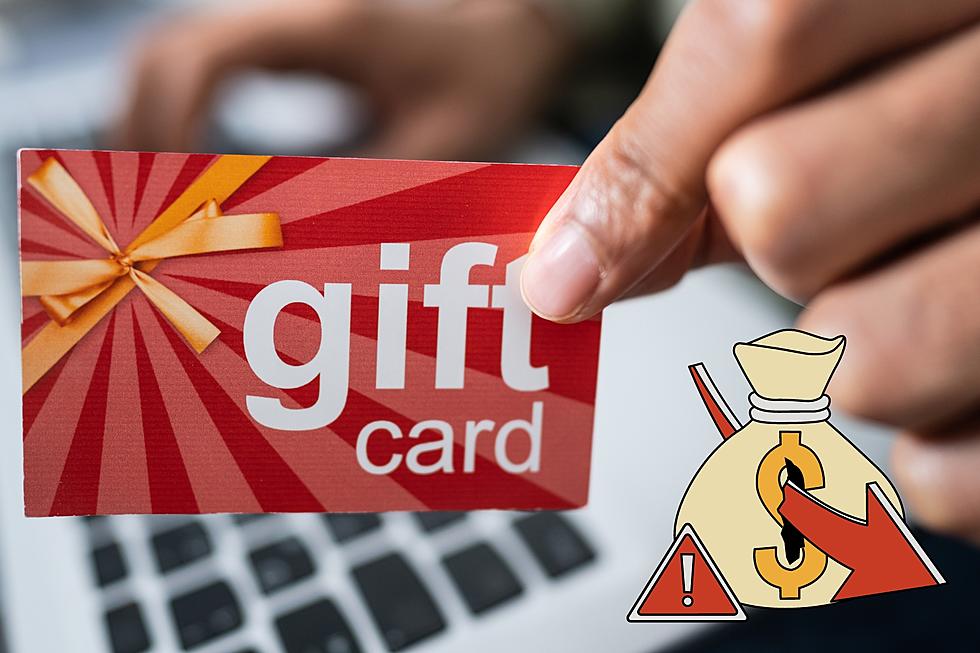 Bankrupt Big Box Store Says Don't Wait To Use Your Gift Cards in Idaho
Canva
2023 has turned out to be an absolute disastrous year from a once popular big box retailer that's now been forced to file for Chapter 11 Bankruptcy. 
Bed Bath & Beyond defaulted on its loans in late January, but pulled off a complex last-minute deal that would give the once booming home goods chain a little more time to turn things around on their own before taking this step. They were, however, painful aware that after seeing continued loss in Q3 of 2022, there was a real possibility that the company wouldn't be able to continue. 
While they were trying to figure things out, they closed two stores in Idaho: the Boise location on Federal Way and one in Twin Falls. They also announced the closure of the Moscow location, which appears to still be in the midst of its liquidation sale. They hoped that cutting jobs and closing underperforming stores, like these three Idaho locations, would keep them afloat, but it wasn't enough. 
After filing for bankruptcy, the store posted the following message on their website:
Thank you to all of our loyal customers. We have made the difficult decisions to begin winding down our operations. Bed Bath & Beyond and buybuy BABY stores remain open to serve you.
The one thing they didn't mention was how long. They appear to still be holding out for a buyer, but the FAQ page about their Chapter 11 filing does mention that store closing sales will start on Wednesday, April 26. They encourage shoppers to shop now for the best selection. It's extremely likely that all 360 remaining stores will close in the near future. 
So what does that mean for people in Idaho that still have gift cards or welcome rewards for the remaining locations in Meridian, Coeur d'Alene or Idaho Falls? It means, time is running out and you better get shopping if you don't want them to go to waste. 
If you're signed up for the Welcome Rewards program and have rewards to use, you need to use them by May 15. These purchases will NOT count toward future rewards. They've ended that program already. 
If you have merchandise credit to use, you must do so by May 15. 
The final day to use gift cards is May 8. 
Bed Bath & Beyond will stop accepting coupons on April 26. 
They'll stop accepting returns for products purchased before April 26 on May 24. All purchases made on or after April 26 are final.
Those with wedding or baby registries with Bed Bath & Beyond and buybuy BABY can still access their registries, but people can't buy things through the platform anymore. They hope to develop an alternative platform where you can transfer your data to somewhere else.
Other Recent Closures and Bankruptcy Filings
We hope that information was useful to those of you who may still have gift cards laying around. We're bummed that we couldn't provide an accurate answer on what to do with your Texas de Brazil gift cards after they abruptly closed at The Village at Meridian. 
Since Texas de Brazil didn't completely wind down their operations and still has dozens of locations in more than 20 states, you can always try selling them to a website like Card Cash or Raise.  You'll get less than your balance, but at least you'll get something you can use like a Prepaid MasterCard, Walmart or Amazon gift card. We have more on how to get money from your unused gift cards HERE. (And that goes for any unused gift cards, not just Texas de Brazil.) 
Bed Bath & Beyond isn't the only big retailer with locations in Idaho to recently announce bankruptcy. David's Bridal did the same thing a week earlier. We put together a round up of brides-to-be that shopped there need to know HERE. 
KEEP READING: Businesses the Boise Area Lost in 2023
Each year we put together a running list of businesses that have closed in the Treasure Valley. This is the 2023 list. Did we miss one? Send us your tips
HERE.
Businesses That Have Opened in the Boise Area in 2023
Each year we put together a running list of businesses that have opened in the Treasure Valley. This is the 2023 list. Did we miss one? Send us your tips
HERE.
LOOK: These Are the 50 Biggest Retailers in America; 2 Are Based in Idaho
Stacker
recently put together a list of the top 50 biggest retailers in America using retail sales data from Kantar, provided by the National Retail Federation. They were ranked by the dollar amount of retail sales they did in 2021. We took it a step further to see how many locations they have in Idaho and across the United States.
Total stores were based on figures from Scrapehero. The number of Idaho stores is based on information collected from a brand's website. It was easier to find that info for some and difficult for others. So cut us some slack if we're off by a store or two. It was hard to count all those little dots on the map. (We're looking at you Ace Hardware.)