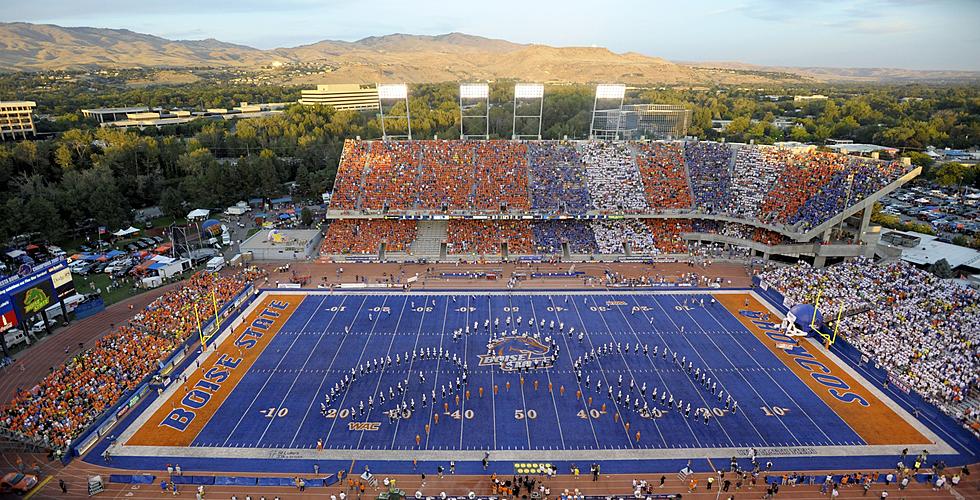 An Open Letter to the Security Team at the Boise State Spring Game
Getty Images
Honestly. I don't know how you did it. 
After the Spring Game, you can already tell this season is going to be something special for Bronco Nation! Under Coach Avalos, the team just seems to have a new swagger about them. The videos he and the rest of his coaching staff put together for the scoreboard had a contagious energy to them, too! There's just something that feels good about the culture over there that makes us undeniably excited for the 2021 Boise State Football season.
Hopefully when the season arrives, it arrives with a significantly larger amount of fans in the stands than last season. Central District Health allowed up 1,100 fans into Albertsons Stadium for two games last fall. Those tickets were nearly impossible to get unless you were part of a player's family, band, spirit squad or a student. You also HAD to get tested for COVID-19 to access entry.
For Saturday's Spring Game, CDHD approved up to 6,300 in-person fans. The game was considered a sell out, with an official attendance of 5,777. Unlike the fall games, they did not have to get tested for COVID-19. It was however, made very clear that there was an expectation for fans to wear masks at all times unless they were actively eating or drinking.
Honestly? If you really LOVE Bronco football (or live sports for that matter,) it's a small ask for getting to do something you haven't gotten to do in over a year. I don't love wearing masks especially while outdoors, but being one of the fans with a ticket to that game felt like a privilege so I have no problem playing by the university's rules.
Listen to Michelle Heart mornings on 107.9 LITE-FM and download the free LITE-FM app to win cash, up to $10,000 with the Payroll Payout! 
Not everyone felt that way. The MAV Security team motioned to anyone  not wearing a mask to pull theirs up or put one on. Most people did so without putting up a stink, but we watched a pretty cringey interaction just a few rows away from us. An entire family loudly refused. The security guard came back with a supervisor and the family continued to fight back eventually saying "we don't have one." That's not a medical reason.
At that point, I'm raising my eyebrow as to how they got in the game if that was true because at the gate we went through, you most definitely had to have one on to have your ticket scanned. A few minutes later, one of MAV's security staff members came back and handed the family disposable masks...which they promptly pulled down under their noses as soon MAV walked away.
I'm not a gambling girl, but I'd venture to guess this wasn't the only incident on Saturday. That's why I wanted to take the time to say how much I appreciate MAV's patience. I can't imagine how much more difficult working in event security is as we get back to things like football games and concerts.
You don't make the rules, but you do have to enforce them. It's got to be tough getting yelled at about something that's out of your control. Know that people were watching these interactions and admired how you handled them. You did a great job under pressure and deserve to be recognized!
This $1.6 Million House Has Been in Boise's North End for 111 Years
LOOK: 30 fascinating facts about sleep in the animal kingdom