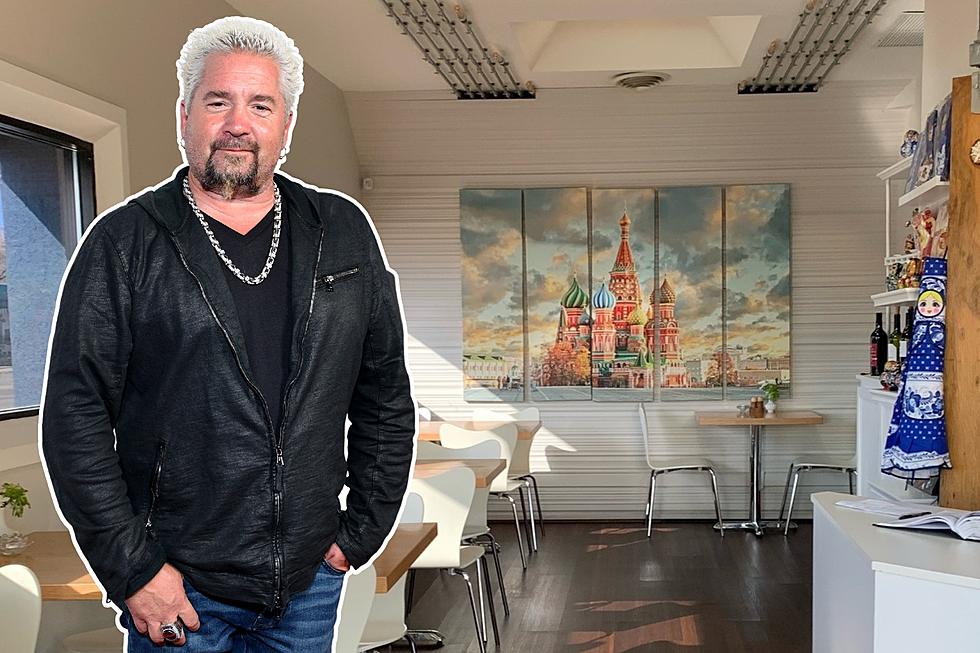 Popular Food Network Show Will Feature Unique Boise Restaurant This Month
Facebook/Alyonka Russian Cuisine + Getty Images
Guy Fieri's most recent visit to Boise almost flew under the radar without a soul noticing! But once he posted a photo of his son, Ryder, signing a Diner, Drive-Ins and Dives poster at Sunshine Spice Cafe on Instagram word spread like a wildfire. 
In case you missed it, Guy Fieri stopped in Boise on his way to NBA All-Star weekend in Salt Lake City in late February. It wasn't just a vacation stop to say "hi" to friends at West Side Drive-In and Bar Gernika that appeared on Diner, Drive-Ins and Dives more than a decade ago. He and his crew filmed footage for new episodes of the show. 
We know that Sunshine Spice Cafe will be featured in an upcoming episode, thanks to Guy's Instagram post. 
We also heard rumors that Guy stopped at Taj Mahal Homestyle Indian and Pakistani Cuisine during this trip. The restaurant seemingly confirmed that rumor by sharing a photo of an autographed art piece reading "Guy! Ate Here" on their Facebook page during the few days that the Food Network host was in town. 
Mamma Bremmer has been awfully quiet about the "special events" that the newer Tango's Subs and Empanadas location in Meridian hosted the week that Guy was in town. That location was closed for several days and there are some rumors that they were being filmed for the show, too. This one hasn't been confirmed. 
Another Boise Restaurant Confirms Diners, Drive-Ins and Dives Visit
Apparently, there was another restaurant that Guy visited that was very good at keeping their DDD secret!  Alyonka Russian Cuisine on State Street confirmed via Facebook that Guy not only filmed an episode at their restaurant but handpicked his favorite dishes, too!  
According to their website, Alyonka's owner, Elena DeYoung, was one of the original founders of Boise's Russian Food Festival. She'd frequently get asked where the community could enjoy that sort of cuisine year-round. In 2019, she was able to easily answer that question when she had the opportunity to open her own restaurant in the former State & Lemp location. Regular menu entrees include beef stroganoff, shish kebab and handmade dumplings with several different fillings. 
Since they opened, they've quickly become a local favorite. In 2022, they won both the Treasure Valley and Statewide "Idaho's Best" awards for Best European Restaurant. The previous year, Nextdoor named it a "Neighborhood Favorite." 
When Will Alyonka's Diners, Drive-Ins and Dives Episode Air?
Elena and her team shared that it's supposed to air on Friday, March 31. We're having a hard time locking down exactly what time it will air though. We're DirecTV Stream subscribers and our listing guide shows it airing for the first time at 7 p.m. that day. Zap2It shows it airing for the first time at 7 p.m. on DISH, but 10 p.m. on Sparklight cable.
Moral of the story? Check the guide on YOUR device. The episode you're looking for is Season 45, Episode 12 "A World of Meat." 
It looks like Alyonka will be the only Boise area restaurant on this particular episode as the description reads: 
Guy Fieri's digging into meaty mashups, starting in Boise, Idaho, where a Russian joint is servin' lights-out lamb, and a Pakistani spot is cooking flavorful goat. In Ocala, FL, a barbecue pro is puttin' his spin on brisket mac and cheese-stuffed sausage.
The episode will also feature Natalie from Hello Meridian and her husband, as they share with Guy why Alyonka is one of their favorite local small businesses.
KEEP READING: Here's How To Take The Most Delicious Northwest 'Diners, Drive-Ins And Dives' Trip
1,443 miles. 10 incredible restaurants that have been featured by Guy Fieri on Diners, Drive-Ins and Dives. The adventure starts in Boise, Idaho!
Every Idaho Restaurant Featured on Food Network
These 10 Boise Area Restaurants Were Just Distinguished as the Best "Neighborhood Gems"
Based on reviews OpenTable users have left, these 10 restaurants are the Boise Area's best "Neighborhood Gems" in 2022.