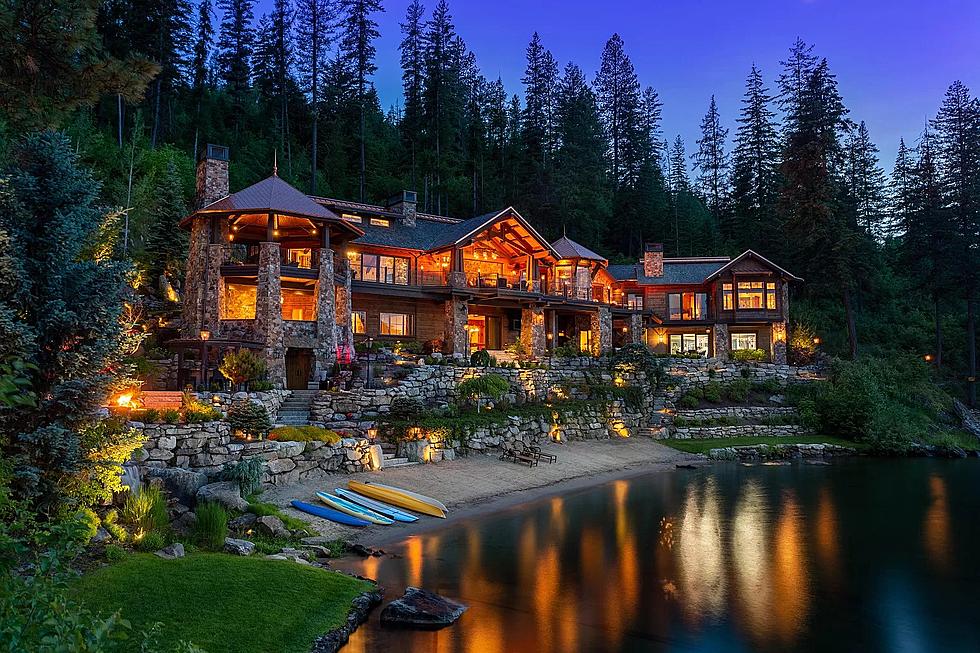 You've Never Seen a Home As Extravagant as This $27 Million Idaho Mansion
Image via Greg Rowley/Coldwell Banker Schneidmiller Realty
Well, at least that enormous price tag includes all the furniture!
When it comes to describing this 9,000 square foot mansion in Coeur D'Alene, we don't even know where to start. The more we looked through the photos, the more we watched the tour videos, the more we heard the realtor describe in a TV news interview...the more impressed we were. You'll find this this home at 4225 W Scot Ayr Dr., about seven and a half hours away from Boise. It's nestled along Lake Coeur D'Alene along 738 feet of private, sandy beach and in 30 acres of wooded property.
In an interview with KXLY last summer, listing agent Greg Rowley mentioned a couple cool features of the home that you wouldn't be able to know about it just by looking at the photos online. The wallpaper in the Master Suite? Yeah, that's leather. How many bottles of wine does the wine cellar hold? 600 and every bottle that's there right now will be included with the luxury home when it finally sells. As will all of the furniture and other extravagant things you see here.
Listen to Michelle Heart mornings on 107.9 LITE-FM and download the free LITE-FM app to win cash, up to $10,000 with the Payroll Payout! 
Could you see yourself living here? It's not totally out of the realm of possibility. Tonight night's Mega Millions drawing is $94 million. That's a start! So, check out the luckiest lottery locations in Boise, buy your ticket and while you wait for the drawing take a look around your potential dream home!
Copper Rock Estate is the Most Extravagant Home You've Ever Seen
Tour the 15 Most Expensive Homes For Sale in Boise
During the week beginning June 28, 2021 these were the 15 most expensive homes on the market in Boise.
This $1.6 Million House Has Been in Boise's North End for 111 Years