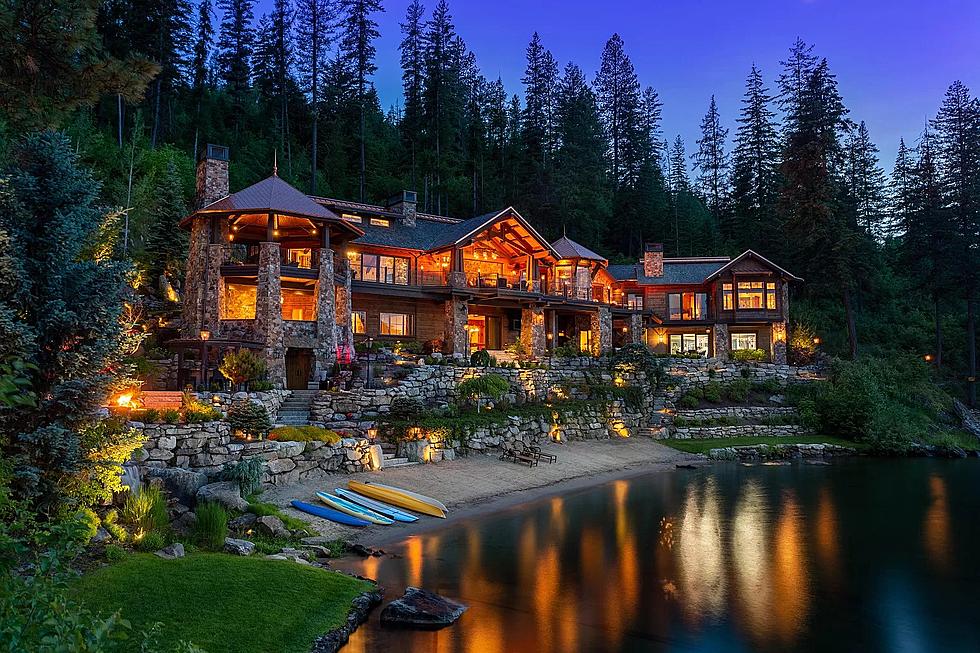 Look Inside One of the Most Expensive Luxury Homes Ever Sold in Idaho
Image via Greg Rowley/Coldwell Banker Schneidmiller Realty
Well, at least that enormous price tag includes all the furniture!
When it comes to describing this 9,000 square foot mansion in Coeur D'Alene, we don't even know where to start. The more we looked through the photos, the more we watched the tour videos, the more we heard the realtor describe in a TV news interview...the more impressed we were. You'll find this home at 4225 W Scot Ayr Dr., about seven and a half hours away from Boise. It's nestled along Lake Coeur D'Alene along 738 feet of private, sandy beach and in 30 acres of wooded property.
In an interview with KXLY in 2020, the last listing agent, Greg Rowley, mentioned a couple of cool features of the home that you wouldn't be able to know about it just by looking at the photos online. The wallpaper in the Master Suite? Yeah, that's leather. How many bottles of wine does the wine cellar hold? 600 and they were included in the sale.
Who Bought Copper Rock Estate?
Known as Copper Rock Estate, this home was listed for an incredible $27,000,000 in April 2021. While Realtor.com never listed the property as "sold," the listing was removed on September 9, 2021. Public records available through the Kootenai County Records office show that the property changed hands a few days before that. Ownership was transferred David W. Wilson Trust in Orange, California.
A quick search of the address for the trust reveals that it's linked to the Chairman and CEO of Wilson Automotive which owns seventeen dealerships in California, Arizona and Puerto Vallarta.
If the trust did pay $27 million for the home, that would make it one of the most expensive homes ever sold in Idaho. According to the Spokesman-Review, that title belongs to an estate in Worley that sold for $27.5 million.
Copper Rock Estate is the Most Extravagant Home You've Ever Seen
Tour the 15 Most Expensive Homes For Sale in Boise
During the week beginning June 28, 2021 these were the 15 most expensive homes on the market in Boise.
This $1.6 Million House Has Been in Boise's North End for 111 Years