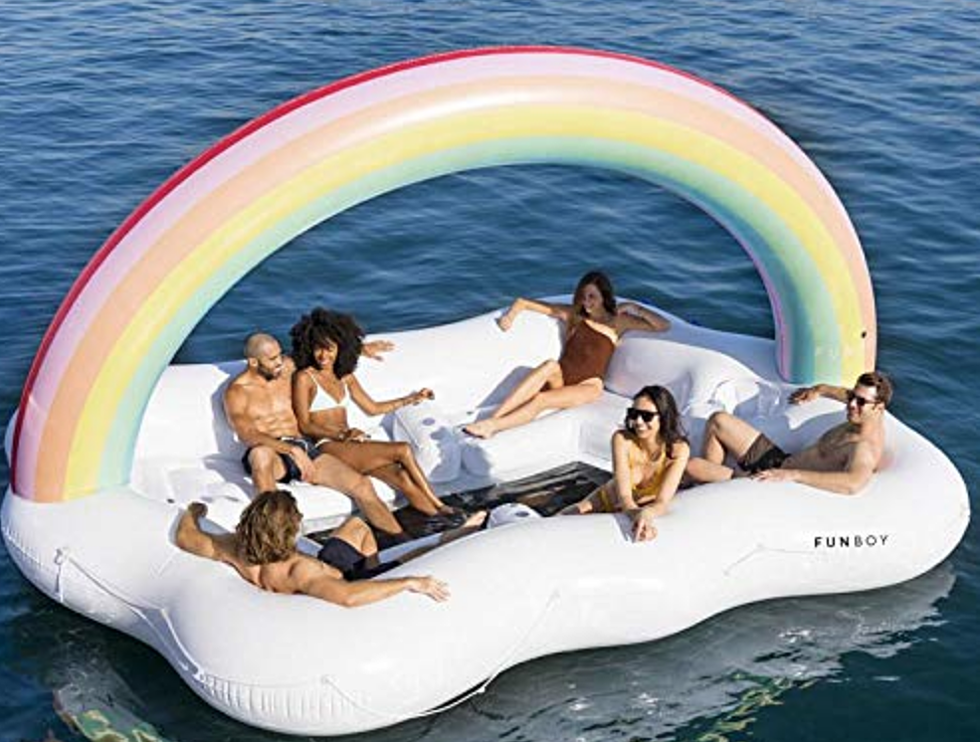 5 Outrageous Floats You Need for Quinn's Pond This Summer
Image via Amazon/Funboy
The Treasure Valley's experiencing warmer than average temperatures this week and they're making people look forward to days by the pool or on the pond!

That's probably why you've started to notice why some wickedly creative pool and river floats popping up everywhere from your Facebook newsfeed to your local Albertsons store. These fun summer water toys have really come a long way since Taylor Swift's now infamous "Swan Goals" photo she posted of her and then boyfriend, Calvin Harris, lounging on an inflatable swan in 2015.
I'll be honest, I'm a sucker for these over the top designs and went all in on a nine foot tall flamingo float to include in my Bachelorette Weekend celebration on Payette Lake last summer. (Pro Tip: Make sure you have some sort of battery powered air pump if your bring something that large to North Beach.  We used one that plugged into my friends lighter in her car and let's just say getting it from beach parking onto the beach was an adventure in and of its self!)
Are you looking to up your family's float game in 2019? Check out these five trending floats that you and/or your kiddos can enjoy at Quinn's Pond, Payette Lake and beyond this summer!
This one has my husband's name written all over it.  Take relaxation (or laziness) to the next level with a pool float equipped with two 66-watt motorized propellers that help push it anywhere you want to go. It comes with a built in cup holder and can hold up to 300 lbs worth of passengers.
If Taylor Swift ever decides to host one of her 4th of July parties again, I can picture this float being a part of it...mostly because it seems to match the pastel theme of whatever her big April 26 announcement is perfectly. The 15 ft long float is covered by a giant 3D rainbow and can comfortably fit six adults. It has a built in zipper-top cooler for your drinks and mesh base that lets you sit in the water if you need to cool off. Funboy's got you prepped for the road by throwing in the air-pump and mesh carry bag for your party island, but the $799 price tag is a little obnoxious. If you know someone with a Sam's Club membership, they may be able to order it for you cheaper online.  Supposedly the warehouse retailer is carrying it for $369.
Is the cloud float too rich for your blood? This three foot long pickle float is silly, trending and wickedly cheap. You can get one pickle for just $7.12 or six pickles for $29.98.  Reviews say that the pickle is surprisingly durable and it's cute face has made it a big hit with kids!
If the popularity of Boise's Corgi Fest is any indication of how much you adore these short little guys, we've got a feeling we'll see quite a few of these at Quinn's and on the Boise River this year! The three foot long Corgi float comes with a patch kit, just in case he has too much fun. BigMouth Inc also offers matching cup floaties for your drink!
If you've ever wanted to feel like a mermaid, this is the float that will make it happen! This clam shell float can hold up to two adults and includes a free pearl beach ball to bump up the fun (volleyball puns) at the pool, beach or lake!