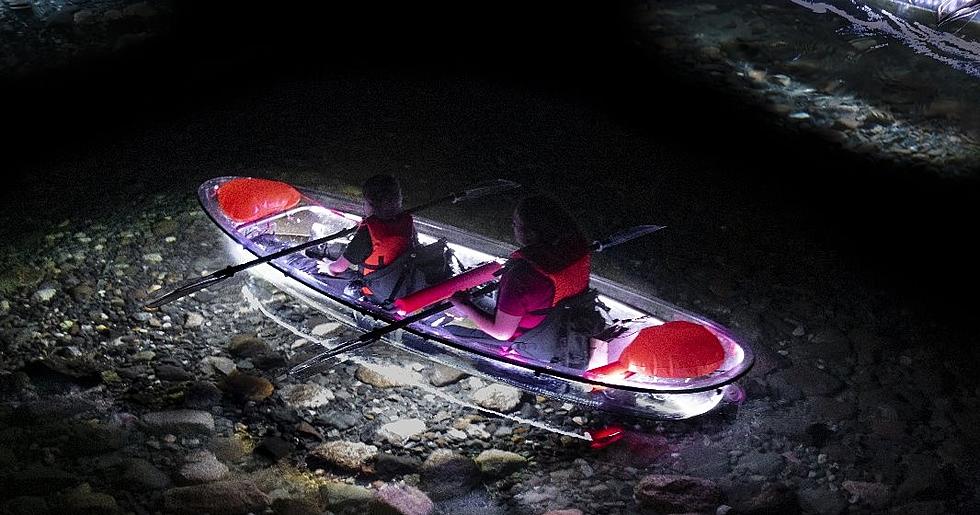 Amazing Glow-In-The-Dark Kayak Adventure Is Just 4 Hours from Boise
JO Paddle
For the most part, Zach Shallcross's season of The Bachelor was kind of a snooze fest. However, one of the final dates he took Kaity on in Thailand gave us major bucket list envy! 
While the date itself was anything but smooth sailing, the activity was something we didn't even know existed! Zach and Kaity took a kayak tour of Thailand's Mangrove forest, but there was something very different about the kayak - it was a glass-bottom, totally transparent boat allowing them to take in the scenery both from above and below the boat. 
Apparently, glass-bottom kayaks are becoming a huge trend! The very next day, one of our Facebook friends (who hadn't even watched the show) posted a Travel + Leisure article about a glass-bottom kayak tour in Florida that was named the "Best Activity in the U.S." The tour in Florida was even cooler than the one in Thailand because the company also offers nighttime tours where the boats are illuminated by LED lights! 
Between the absolutely gorgeous "blue lakes" in the Magic Valley, the picturesque turquoise waters of Bear Lake at the Idaho/Utah border and the crystal clear waters of Redfish Lake in the Sawtooths, we thought for sure that someone would've started offering glass kayak tours somewhere in Idaho but they haven't! 
Idahoans wanting to give these downright magical boats a try aren't totally out of luck! Jo Paddle, a kayak and paddleboard tour and rental company, in Joseph, Oregon has them and their meeting point is just a little over four hours away from Boise. 
The kayaks seat 1-2 people and can be rented during the day for $55-$75 depending on how many hours you'd like to use them and they'll have them delivered to a boat ramp at Wallowa Lake for you. 
In the evening, they offer guided tours most Thursdays-Mondays from the beginning of June through late September. The tours last 90 minutes and allow you to spot fish, underwater boulders and the layer of colorful pebbles lining the lake under the soft glow of the LED lights from your kayak. Kids five and older who weigh at least 30 pounds can ride in the kayak with an adult. Teens 16 and older can paddle their own kayak. No drinking or smoking is allowed in the boats, so it makes for a really great family-friendly experience for everyone! 
The nighttime tours are $155 per kayak. Want a little sneak peek of what to expect if you make the drive? Here are some photos from the company's website of what you can expect!
Authors Note: Want to make a weekend of it? Joseph, Oregon to Joseph Branch Railriders, an incredibly cool railbike tour company! 
Amazing Glow-In-The-Dark Kayak Adventure Is Just 4 Hours from Boise
Looking for something you've NEVER done before to add to your summer bucket list? Look no further than this unforgettable nighttime adventure in Joseph, Oregon!
KEEP READING: The Most Unique Camping Spots in Idaho and Its Neighboring States
According to Love Explore, these are the most unique camping spots in Idaho, its neighboring states and California (because so many of our new neighbors are from there.) If you visit any of them, please be respectful and practice the seven
Leave No Trace Principles.
10 Incredible Adventures That Must Be On Your Idaho Summer Bucket List
From hikes to waterslides to kayaking in beautiful blue waters, there's no shortage of fun things to do in Idaho this summer!