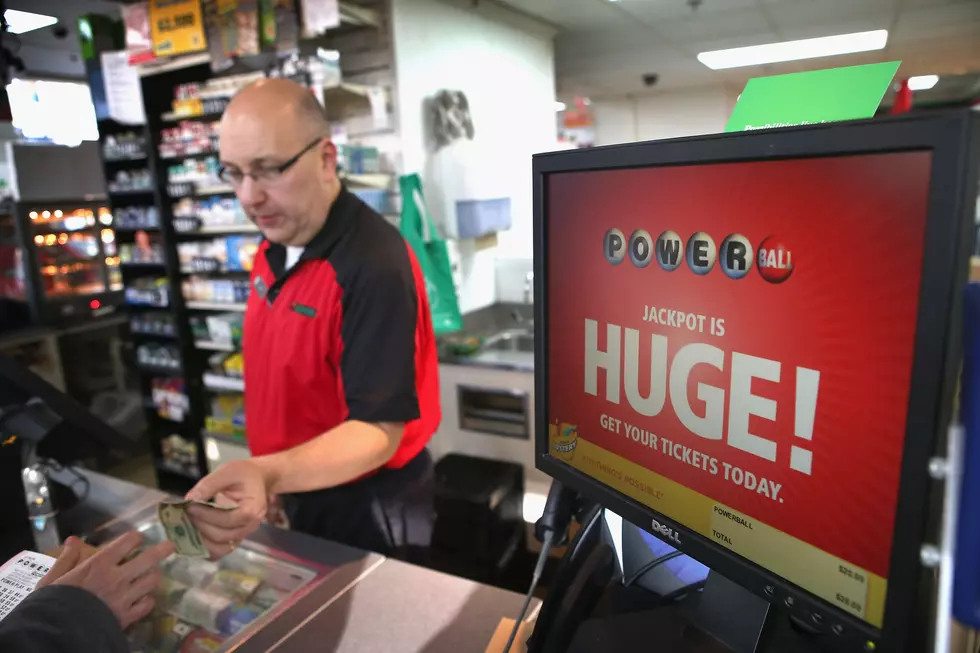 Idaho Produces Another HUGE Powerball Winner Ahead of $1 Billion Drawing
Getty Images
Both the Powerball and Mega Millions jackpots are huge and that's why for the last few draws, rather than getting on social media first thing in the morning you head to the lottery's website to see if there was a winner. 
For the Powerball? There hasn't been a jackpot winner since April 19. Even though no one won the $900 million jackpot on Monday, July 17 there were still a number of people who won top-tier prizes! According to Powerball officials, that drawing produced three $2 million winners, five $1 million winners and 28 $200,000 winners.
$200,000 might not be enough to walk into your boss's office and yell "I QUIT THIS JOB" but it's certainly enough to pay off the family's car loans, put down a sweet down payment on a house or take an epic vacation. Sound good? Well, then you might want to pull that crumbled-up ticket in your wallet out and double-check your numbers. The Idaho Lottery revealed on their Instagram story that one of those 28 $200,000 tickets wasn't just sold in Idaho…it was sold nearby in Canyon County!
The winning numbers for the Monday, July 17 drawing were: 
Powerball Jackpot Approaches Record
Since there wasn't a jackpot winner, Wednesday night's jackpot has risen to the third-largest jackpot in the game's history - $1 Billion with a cash value of $516.8 million. The draw also marks the third time the Powerball reached the $1 billion mark. 
If you're hoping to win that money, never say never! It's been a while, but Idaho has produced FIVE Powerball jackpot winners. Pam Hiatt, who won $87.5 million in 1995 and Brad Duke, who won $220.3 million a decade later, are the most well-known because they happened to buy their winning tickets at the same Jacksons store at 2728 S Orchard. You can read about the other big winners HERE while you wait to become name number six on the list. 
Mega Millions Jackpot Soars Too
The other multi-state lottery ALSO hasn't seen a jackpot winner since mid-April. Since there are fewer draws for the Mega Millions, the jackpot isn't quite as large as Powerball but $720 million is nothing to sneeze at! That's the jackpot for Friday night's drawing. If a winner chooses to take the lump sum, the cash option is $369.6 million. 
One lucky Idahoan did strike it rich during the July 4 draw. Idaho lottery officials say a $3 million ticket matching the first five numbers WITH the Megaplier option was sold in Oneida County. 
Idaho has only produced ONE Mega Millions jackpot winner. Single mom, Holly Lahti of Rathdrum was one of two winners for a $380 million jackpot in 2011. She had to split her winnings with a couple from Washington State. You can read more about her story HERE.
KEEP READING: 15 Luckiest Lottery Locations in the Treasure Valley
If you believe where you buy your tickets matters, these are fifteen Idaho Lottery retailers that have cranked at least one, if not multiple, winners of $100,000 or more!
Remarkable $3.5 Idaho Has a Private Go-Kart Track That Will Make Your Jaw Drop
We've never wanted to move to Parma so badly! We're not sure why you'd ever leave if this was your home.
See Inside the Marvel that is Idaho's Most Expensive Home for Sale
As of May 2022, this home is the most expensive one listed in Idaho!