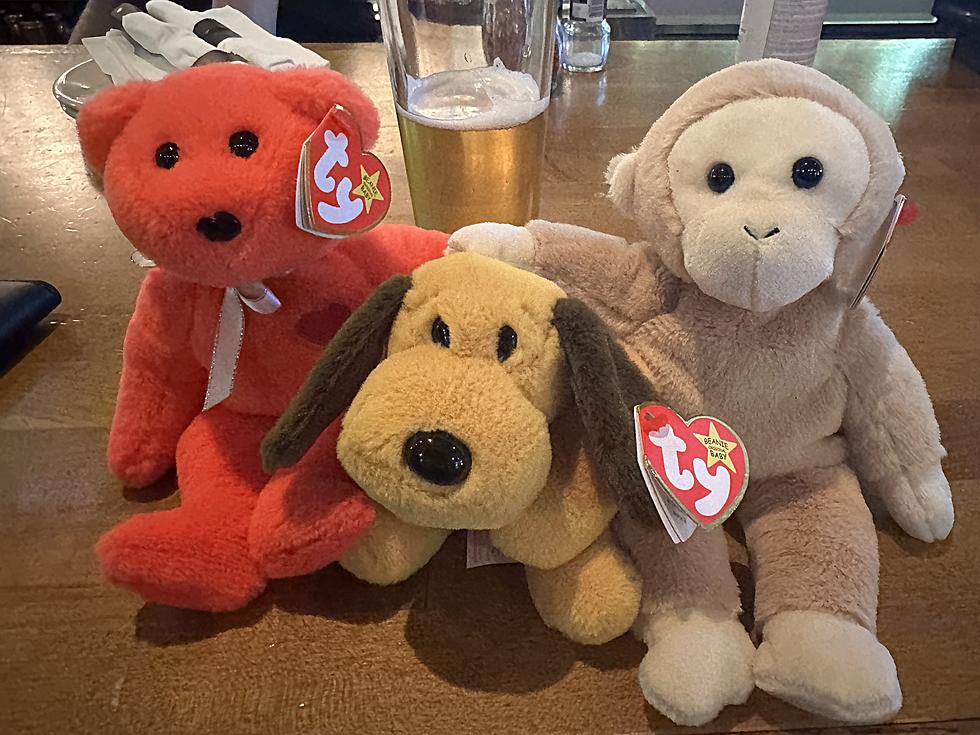 90s Kids Rejoice! Original Beanies Are Back in Boise, Here's Where to Find Them
Michelle Heart, Townsquare Media
Tamagotchi. Pogs. Nintendo 64. Polly Pocket. Furby. As '90s kids, we're probably slightly biased but we're fairly sure that we grew up in the golden age of toys. Many of us have fond memories of those toys, but none of them were quite as iconic as a particular line of adorable stuffed animals. 
Yes, we're talking about Beanie Babies. We're not sure exactly which year they stopped making the "Original" Beanie Babies we grew up with, but over the years they morphed into Beanie Boos, beanies with oversized, sparkly eyes. Ty still makes a line called "Beanies," but even those have big, glistening eyes. They're still cute, but they just look so different from the little black eyed platypus, lobster, moose and frog our collection started with. 
It's hard to believe that those "Original 9" Beanie Babies were first released 30 years ago! That's right, the first Beanie Babies were distributed to small retailers in 1993. There's a wild documentary called Beanie Mania on Max (formerly HBO Max) about how the Beanie Baby craze really began in a small, Chicago suburb and blew-up nationwide not because of children, but because of grown women. 
The way the interviewees in that documentary remember the age of Beanie Babies was a little darker than we remember, but that's probably because this author was a child during the craze. We just remember begging our parents to take us to the Hallmark store or other small gift shop on a day that new Beanies were expected to arrive and spending our entire allowance on a single Beanie Baby. We remember piling all of our friends on our desks at school until the school banned Beanies for being a distraction. And we remember eating more Happy Meals than we should have to collect Teenie Beanies, unlike the adults in that documentary that were throwing away perfectly good burgers and fries just to get the toys to sell on eBay. 
Anyway, why are we taking this walk down memory lane? Because Ty quietly announced that "Original" Beanie Babies are back. We got tipped off by a random Facebook post from a gift shop in Pennsylvania that had the new Beanies in stock, so we did a little digging. The toy maker posted this video on their YouTube account two weeks ago. 
On their website, there's a note that reads:
Our famous Beanie Babies are back! Find Commemorative 30th Anniversary versions of Bongo, Valentino & Bones only at select retailers! Not available on Ty.com!
As former collectors, we felt this overwhelming compulsion to track them down. Like the original run of Beanie Babies, each small retailer is only allowed to order a small quantity of each 30th Anniversary Beanie. (Rumor has it that it's 24 of each.) As far as we can tell, no stores in the Treasure Valley have advertised on social media that they have the new Beanies, but thanks to some of our trusty listeners, we've found them in at least TWO locations! 
Randi tipped us off that the Life is Good store at Boise Towne Square Mall had them. We can confirm that, because that's where we bought ours! After the cashier saw us walk straight to the Ty display, she was very excited to tell us about the return of Beanies when we walked to the register. We proudly said "We know! That's what we came for!" before placing these on the calendar. 
Katie messaged us these photos from G. Wilikers in Hyde Park. It appears they have Bongo II and Valentino II.
Have you seen the new Beanies anywhere else in the Treasure Valley? Shoot us a message and tell us where!
KEEP READING: Top 9 Toy Stores in the Treasure Valley
Whether you're shopping early for the holidays, have a birthday party to go to or are just treating your child for a job well done these are some solid places for toy shopping!
How Old Boise Are You?
If you remember at least 10 of these 15 things vividly, you can proudly call yourself "Old Boise!"
Do You Remember When Boise Had An Adorable Amusement Park?
Once upon a time, Boise was home to a small amusement park called the Boise Fun Spot. Some generous contributors in the "Boise & the Treasure Valley History" All of Idaho's History group gave us permission to share their family photos of the park! You can learn more about its history
HERE.