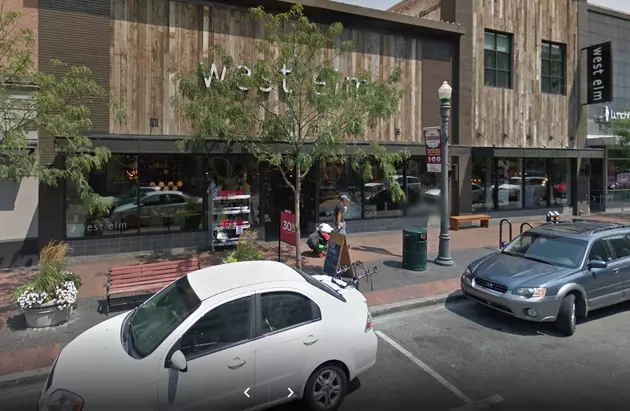 You Can Now Rent Home Decor from West Elm
Image via Google Maps
Ever walk past West Elm's window on Idaho Street and wonder what some of the items in their window would look like in your home? Now there's a way to find out with spending a fortune!
I was blown away by how many of you took the time to comment on the photo of the rose gold sequins dress I wore to the Policeman's Ball last weekend.  So many people at the ball stopped me to ask where I got it and that's when I had to spill my dirty little secret. I didn't buy the dress.  It was a rental.  My husband and I get invited to a lot of formal events and I finally got tired of having to buy prom dresses in the juniors section to wear to them so for the last few events, I've been using a website called Rent the Runway.  For a fee, they let you borrow formal dresses, accessories and other items for 4 to 8 days.  They ship you your normal size and a back up size, you wear it to your event and then send it back in their pre-paid UPS garment bag. It's a great way to rock designer fashions without paying designer prices!
Why am I telling you all of this? Because starting in June, Rent the Runway will team up with West Elm to start renting a selection of throw pillows, blankets, shams, quilts and coverlets using the same process they use for renting clothing. You'll have to become a Rent the Runway Unlimited subscriber to access their 26 West Elm "bundles" but the cool part is that with that subscription, you can also rent unlimited pieces of clothes on rotation.  You can swap them whenever you want.
I LOVE this concept because the bed set in our spare bedroom has seen it's better days.  I've had it since my early 20s so at this point it has it's fair share of stains from make-up, falling asleep with my shoes on, etc.  We don't host guests often, so we're not quick to invest in a new one.  It would be awesome to rent something pretty and chic for our guests when they do arrive without committing to the set long term!
Right now, there's no word on whether or not Rent the Runway will let people pick up their "West Elm Bundles" at local stores like the one in Downtown Boise but it's not out of the realm of possibility. RTR has several brick and mortar stores of its own in major cities where you can browse their selection and try on sizes before renting your items.