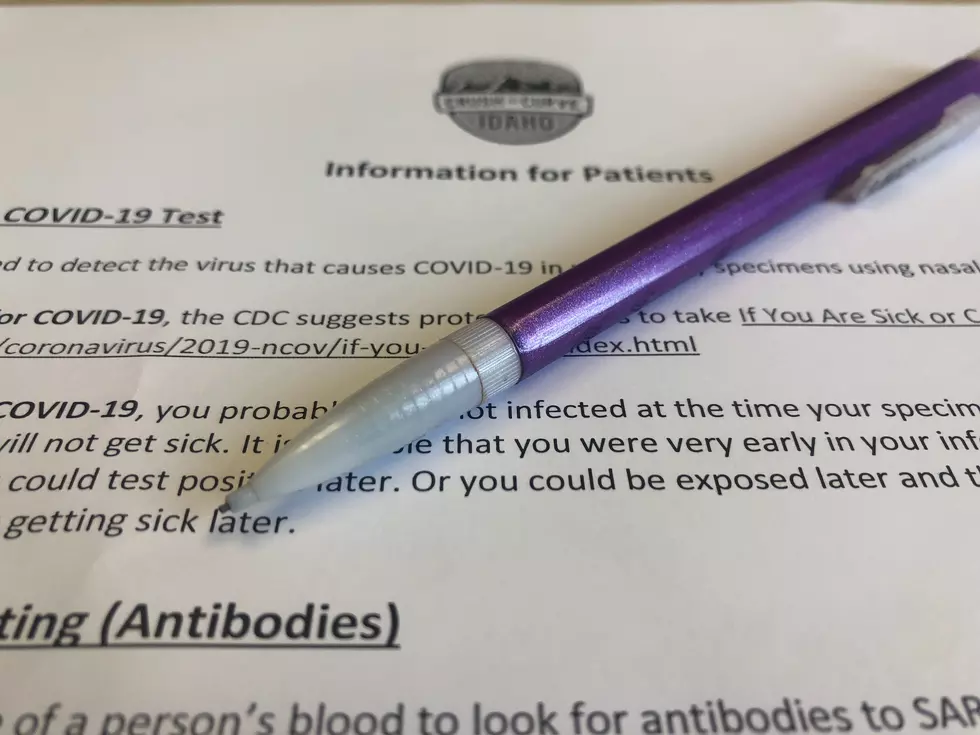 My COVID-19 Anti-Body Test Results Are In and I Don't Know How to Feel
Michelle Heart, Townsquare Media
A few weeks ago, I got tested for the COVID-19 antibodies through Crush the Curve Idaho. I was tested on a Tuesday and got my results by that Friday, but haven't had a chance to share those results with you.
Like many of you, I was wicked sick in late December/early January. While I was sick, there were times where I was gasping for air after turning off the microphone during my show. That's not normal, so naturally when the opportunity to find out whether I'd already come in contact with the virus that causes COVID-19. Going into that test, my gut feeling was that it was going to come back positive and I hoped that it would.
Enter your number to get our free mobile app
Three days after my test, my heart was racing when I got the e-mail that my lab results had been uploaded to my Saltzer Health patient portal. Without having to click beyond the dashboard, I saw that my COVID-19 Antibody IgG test came back negative. Included with the lab results was a little note from Dr. Kaiser explaining that likely means that I was not exposed to SARS-CoV-2 or that body did not mount an immune response to the virus.
I must've read that line 1,000 times. As I did, I couldn't process the way I was feeling. I should be relieved and grateful that I haven't come in contact with the virus, right? I probably should be but the truth is seeing the word negative made me anxious and sad.
It's amazing how quickly I went from thinking COVID-19 was being blown out of proportion the first weekend a case had been reported in Idaho to being absolutely paralyzed with fear at the very thought of walking into a grocery store. That fear made me feel pretty helpless while my husband was out of town handling the final arrangements for his father, who passed due to COVID-19. I had become too reliant on him to run our essential errands. A positive test result would've eased my anxiety to the point where it wouldn't take courage to grab the ingredients for dinner. Instead, I continue to be afraid of just about everything outside of the station and my apartment.
I'm also a bit sad because if it had come back positive, I would've been eager to face my fear of needles and donate plasma to help further a study that West Valley Medical Center recently joined. They're part of a national study to determine if plasma from recovered COVID-19 can be used to help those facing severe cases of the disease. After watching my mom battle COVID-19, it would've been a no-brainer to donate and try to make a difference for others battling the disease.
I'm glad to have had the opportunity to have had the opportunity to get answers though. If you're interested in being tested for COVID-19 antibodies click HERE to read what the experience was like and how to get signed up.
If you got tested, what were your results and how do you feel about them?
Here are some tips for self-care during the pandemic: