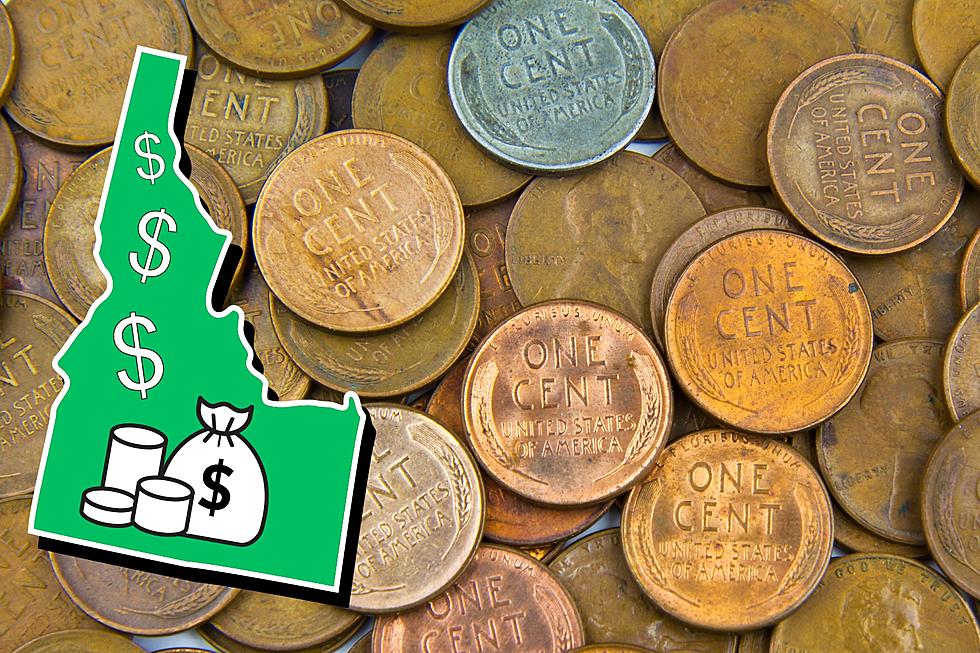 Find a Wheat Penny in Idaho? It Could Be Worth $300,000
Canva
We have so many regrets about parting with our childhood coin collection. So many regrets! 
Back in 1999, the United States Mint started issuing state quarters to commemorate each state becoming a state. The mint issued five new quarters a year from 1999-2008 and each of the quarters had a unique design on them meant to celebrate a state's history, culture and resources. They were issued in the same order that the states became states. Idaho's quarter came out in 2007.
Rather than featuring the state's state bird, the Mountain Bluebird, it featured a Peregrine Falcon and the state motto "Esto Perpetua," which means let it be perpetual. 
As kids, searching for the 50 States Quarters was a fun way to get into collecting coins. We remember our grandparents buying us collector folders to keep our quarters safe. The more quarters we collected, the more we became curious about OTHER collectible coins…like "wheaties." 
The very first time we saw one of these, we were on a family vacation in Myrtle Beach. An older couple kept throwing pennies in the deep end of the pool for kids to dive and retrieve. They let each child collect the pennies they found. Every single one of these pennies was a "wheat penny" and we remember coming home with a handful of them! If we held on to them all these years, we could've been rich! 
What is a Wheat Penny?
Many of us don't know a time in our life when the Lincoln Memorial wasn't stamped on the back of a penny, but there was a period of time from 1909-1958 when the backside of the coin had the words "One Cent United States of America" surrounded by stalks of wheat. They're one of the most popular coins for Idaho coin collectors to search for. 
What Makes a Wheat Penny Valuable?
Several different things! The metal the penny is made out of can make it rare. According to CoinCollecting.com, pennies were made of 95% copper until 1943. At that point, the US Mint started making them out of zinc-coated steel so that copper could be used for important things like ammunition, electrical wiring and cooling systems during World War II. 
While the switchover was pretty smooth, there were a few mistakes made. SD Bullion explains that a few "bronze" blanks made it into the minting machine in 1943. Once the change over BACK to copper was made, some steel blanks made it into the minting machines for the 1944 coins. Some of the coins that were made in error made it out of the mint and into circulation, making them super rare! 
Other "wheaties" were accidentally double-stamped. Some had the initials of the designer on them. All of these things could contribute to the one-cent piece being worth THOUSANDS if you find one while collecting coins in Idaho! 
Which Wheat Pennies Are the Most Valuable?
These are the pennies that SD Bullion suggests keeping an eye out for if you're a coin collector in Idaho:  
According to CoinCollecting.com, one of the 1944 steel pennies made in error could be worth anywhere from $50,000 to $1,000,000 depending on its condition and mint mark. The ones stamped with an "S," representing their origin in the San Franciso Mint, are the most valuable. SD Bullion says that one of these was sold at auction for $408,000 in 2021. The American Numismatic Association estimates that there are about 35 of these in existence. 
According to CoinCollecting.com, a 1943 Bronze penny in mint condition could be worth anywhere between $300,000 and $2 Million! The 1943 Bronze penny without a mint mark is on the low end. According to SD Bullion, one with an "S" mint mark, meaning it was stamped in San Francisco, sold for $504,000 in 2020. One with a "D" mint mark, meaning it was stamped in Denver, sold for $840,000 in 2021. It's estimated that only 15-20 of these exist.
We should have never, ever gotten rid of those pennies that we collected on vacation! If you held on to your childhood coin collection, give it a once over! You may be sitting on a gold mine. If you got rid of it, well... there are always scratch tickets.
KEEP READING: 8 Idaho Lottery Scratch Tickets With HUGE Prize Jackpots of $10K or More Remaining
This list is up to date as of April 16, 2023
Do You Remember When Boise Had An Adorable Amusement Park?
Once upon a time, Boise was home to a small amusement park called the Boise Fun Spot. Some generous contributors in the "Boise & the Treasure Valley History" All of Idaho's History group gave us permission to share their family photos of the park! You can learn more about its history
HERE.
These 10 Idaho Counties Have the Most Expensive Home Prices in 2023
Based on the most up to date statistics from Realtor.com, these 10 counties have the highest median home prices. Scroll through to see how much they cost and what the largest and/or most expensive home on the market in that county looks like. (Data is accurate as of April 2023.)