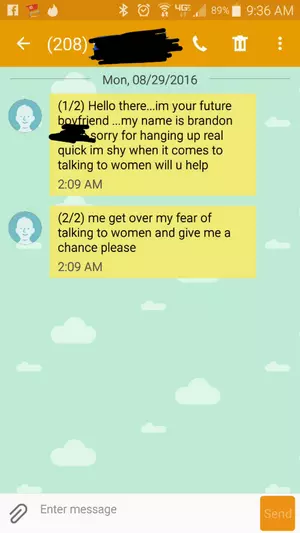 This May Be The Worst Dating App Encounter So Far
Jen Austin - Townsquare Media
If you're on the dating apps, you know things can get a little dicey to say the least. If only they would write "I'm nuts" on their profile pics, it would save so much time!  Has this happened to you?
I swiped right on a guy named Brandon Sunday night as I was combing through profile pics, and several hours later he called me. It was 2:07am on Monday and I was asleep. Why in the heck would anyone make the first call in the middle of the night?  I fumbled for the phone and answered, and he hung up without saying anything.
I didn't give him my number, but because this dating app is tied to Facebook, it probably pulled from there.  Ugh.  Be careful with that.
Two minutes after the hangup, he texted with this gem:  "Hello there...im your future boyfriend...my name is brandon [blank] sorry for hanging up real quick im shy when it comes to talking to women will u help me get over my fear of talking to women and give me a chance please"
Um...no.  If he comes with a factory-installed fear of talking to women, how could he possibly calm us down when we have freak-out days, and how could he ever understand all of the hidden meanings and hints that we drop and when we expect to be "understood?"  (Kidding.)  And besides, we fear the bad grammar and lack of punctuation.
I looked at his original profile and it seems harmless enough.  He says, "Hey!  I'm an easy going guy.  I love the outdoors and going to sporting events.  I have a lab and we often frequent local dog parks. Looking for someone who likes to have fun..."
Somewhere between the profile and the middle-of-the-night text he lost his ability to form complete sentences.  But he's super cute!  And smiley and has good teeth!  And he didn't post any profile pictures of dead fish or fancy sports cars that he probably doesn't own.  I thought he was going to be my future husband.
We've all got dozens of nutty stories from the dating apps.  I'd love it if you'd share yours. Once we find a great relationship and get married, the insanity stops, right?  Cool, problems solved.