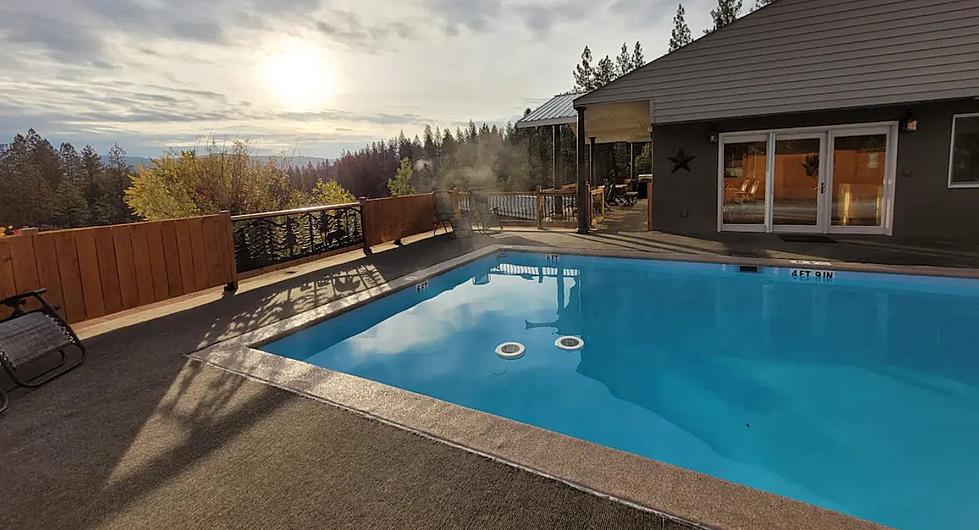 Private Hotsprings at Stunning Rental House One Hour From Boise
Airbnb, SnowSprings Pool House
Idaho is home to some of the most stunning landscapes in the country. The beautiful gem state also has spectacular Airbnbs available around the state the showoff said beauty. This particular home was recommended to me through Facebook and is one heck of a spot to getaway, wind down and reset.
The title for this Airbnb is Private Hotsprings Pool at SnowSprings Pool House. What it doesn't mention in the title is how spacious and unique the home is. 5 bedrooms and a total of 6 queen beds, a twin bed and a sleeper sofa there is enough space to make this a whole extended family retreat. Or if you have a few close friends, a spectacular place to visit for a joint trip you won't soon forget.
This divine spot is only an hour from Boise in Garden Valley Idaho. Relax in the heated geothermal pool that is kept to 92° in the summer and 103° in the winter. It is perfect day and night year-round. There is even a half bath located outside next to the pool for convenience.  Wow.
The views and the private geothermal heated pool are plenty enough to make this a well worth it stay but the interior of the 3600 square foot home is something special too. The floors are heated geothermal to keep your toes toasty no matter what time of the year. The stonework and HUGE natural wood columns make it perfectly picturesque. Magazine worthy even. Just wait until you see the master shower too, wow.
There is another building, a 600 square foot yurt on the property that is heated and has been transformed into a stellar game room. Complete with a pool table and a ping pong table. Outdoor firepit and WIFI is available.
According to the Airbnb listing, "Golf lovers will enjoy Terrace Lakes Resort just 2 min down the street. World class fly fishing and kayaking just down the way on the famous Payette River. Skiing, snowboarding mountain biking only 45 min down the Hwy to Tamarack Resort."
Check out pictures from this amazing Airbnb and keep scrolling to check out other stunning favorite ones right here in Idaho.
Private Hotsprings Pool at SnowSprings Pool House One Hour From Boise Airbnb
This stunning Airbnb Cabin is only about an hour drive from Boise. Get quite a staycation, complete with private hotsprings and unbelievable views. The rock work and massive wooden columns are quite impressive.
Get Your Friends To Go in on This Unbelievable Airbnb Idaho Cabin
The place truly looks like it could create a trip and experience you are not likely to forget. It has a hot tub, views all around, a kids playroom, an adult bar and game room, a gym and more.
Top 8 Idaho Airbnbs for the Perfect Stay-Cation
Here are the top 8 according to
Territory Supply
. There are multiple photos for each Airbnb home to check out.
Spend The Night In One Of These Four Spectacular Boise Boys Airbnb's
These four homes were renovated by the Boise Boys on the show or off the show. We will give you the episode number and current rental price for each of these Airbnb's.
Most Expensive Luxury Airbnb In Idaho
CHECK IT OUT: Restored 1909 Train Carriage Transformed Into a Cozy Airbnb