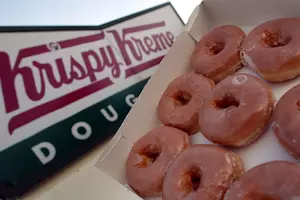 Krispy Kreme's Fan-Voted Donut Comes to the Treasure Valley This Week
Getty Images
Back in January Krispy Kreme asked for our votes on the best new glaze option to try, and we can taste the results of that yummy little contest starting today.
The choices were lemon, caramel, and blueberry.  Remember which one you picked?
Apparently the caramel option was just too sweet, and the blueberry idea was just too fruity for most people.  The lemon option got the most fan votes for an alternate glaze, and Krispy Kreme is going to start offering those lemon-glazed donuts today at participating locations across the US.  And they'll only do it for a week!  So if we really love it we're going to be out of luck, at least til they cave to more of our internet begging.
Fan votes propelled the new lemon glaze to the top with 36 percent of the vote in January and the company promised then to make it available for a week in the spring.  This is our week.  Caramel was in second place with 26 percent, and Blueberry came in third with 20 percent of the vote and maple in fourth with 18 percent of the vote.
But really, can any of these tempting sideshows beat that original glaze when the hot sign is on?  Lemon does sound fresh and bright and like it might put on just the right amount of zing in there to cut the sweetness a smidge before it melts in our mouths.  Like a lemon bar.  Just keep the original comin' too.
Krispy Kreme's new Lemon Glaze Donut is available between April 23 and April 29.  We'll be watching for that hot sign in Meridian.
Krispy Kreme
1525 North Eagle Road
Meridian, ID 83642
Phone: (208) 846-8500