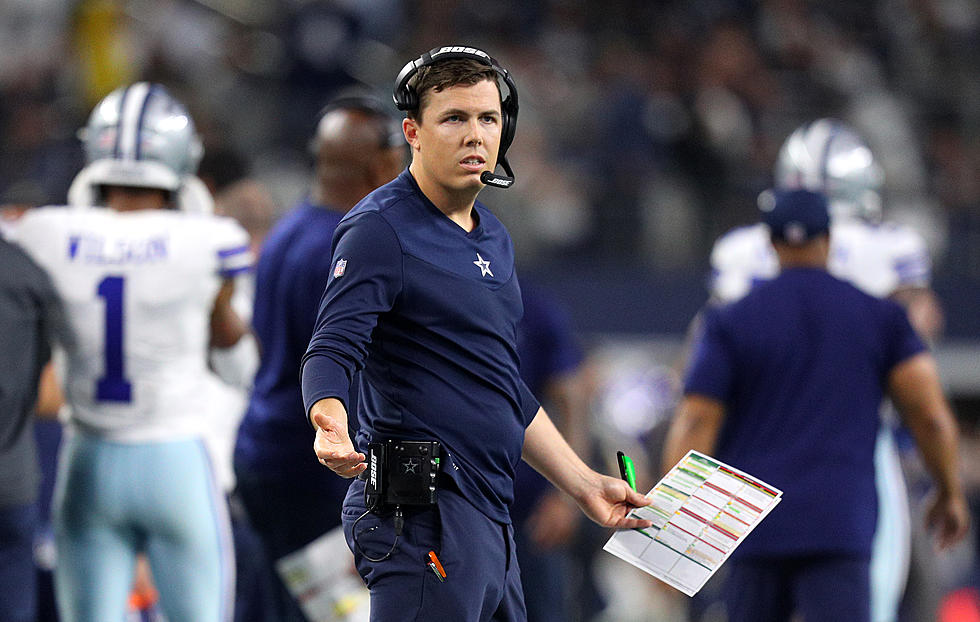 What Dallas Cowboy Fans Really Think of Boise Great Kellen Moore
Ronald Martinez / Staff / Getty Images
One of the greatest Broncos, if not the greatest, will face his ultimate challenge tonight. With the world watching, this young man is responsible for guiding America's Team against the greatest quarterback of all time. No, former Boise State great Kellen Moore will not be suiting up tonight against Tom Brady's Tampa Buccaneers, but it feels like a career-defining or ending playoff game.
The last of the NFL's first-round playoff games concludes tonight as the Tampa Bay Buccaneers host Moore's Dallas Cowboys. Once again, all eyes will be on Coach Moore, the Cowboys' offensive coordinator. The team has had an exceptional year producing a 12-5 record. However, in Dallas, it's consistently winning the Super Bowl or bust; this year, a bust could mean Coach Moore finds a new job.
Kellen Moore: Dominance Over The Years
Kellen Moore's 50 career victories as the starting quarterback at Boise State University remain the most by any QB in NCAA football history. Moore, who was touted as one of the most brilliant minds in college football has now taken those brains to the NFL where Dallas fans can't get enough of him.
Coach Moore is one of the brightest minds in the game. The former Boise State quarterback is ranked as the second-best offensive mind in football, only behind Super Bowl-winning Kansas City Chief Coach Andy Reid.
As Sports Illustrated reported, Kellen Moore is ahead of Bucs coordinator Byron Leftwich, 49ers head coach Kyle Shanahan, Rams head coach Sean McVay and Packers head coach Matt LaFleur. However, it doesn't matter to Cowboys Owner Jerry Jones if you don't win the big one. The owner is desperate to get his team back to winning the Super Bowl. Suppose the team loses to the Bucs tonight. Experts predict Mr. Jones will fire the current coaching staff, replacing them with former Saints Coach Sean Payton. 
Coach Moore has been a popular choice as a prospective head coach. He interviewed for several jobs last year. It has been reported that the Carolina Panthers have a considerable interest in hiring him as their next coach. 
5 Reason For Kellen Moore to Stay A Dallas Cowboy
Kellen Moore is a very popular coach with the Dallas Cowboys. Here are five reasons why he should stay a Cowboy.
Despite his success, many Cowboys fans are unhappy with Coach Moore and want him to leave. It may be a shock to us that anyone couldn't be happy with the former Boise State great. We've selected a few to share with you.
DALLAS FANS UNLOAD ON BOISE STATE KELLEN MOORE
Counting Down the Best NFL Team to Hire Kellen Moore
We look at the eight NFL Teams that are looking for a new coach. Find out which team has the best opportunity for Kellen Moore.