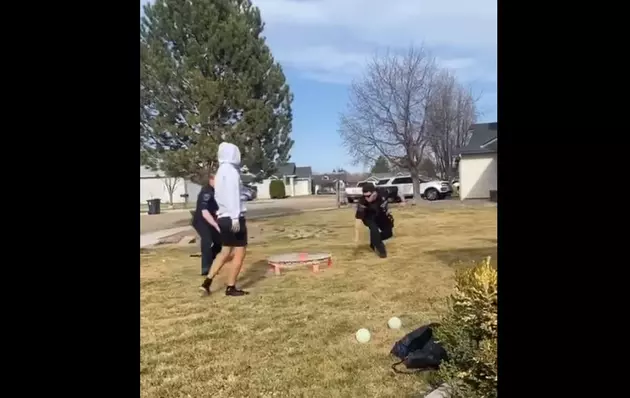 Internet Can't Get Enough of This Caldwell Police Moment [Video]
Credit: Caldwell Police Department
In a world of stressful news, information overload, overpriced gas, and not nearly enough positivity, a video out of Caldwell made everyone's day a little brighter, recently.
With over 15,000 views and counting, footage of two Caldwell Police Officers playing spike ball with two local boys seemed to strike a needed chord for a sense of community as the weather keeps getting better out.
Temperature's spiking in the 208! Officer Derrick and Officer Thomas playing a good ole game of spikeball with some local teenagers. Ready.....Set......Spike!
The Caldwell Police Department wrote on Facebook when they shared the video. These days, it is more important than ever for our local police departments to build lasting relationships with the communities which they serve. As our area continues to grow more and more, safety for ALL is extremely important.
Want to see the video for yourself? Check it out, below:
Did you know that the State of Idaho actually has a most wanted list? It isn't very long--but there are some WANTED suspects on that list. Do you recognize anyone or have any information that may lead to the arrest of these individuals? Check out the list, below: 
Idaho's Most Wanted
When it comes to the most wanted criminals in Idaho, the list according to the Idaho Department Corrections is short. There are a total of nine individuals who made the "Most Wanted" list. Do you recognize any of these fugitives? Some have only been on the run for a few months. Take a good look at the photos below and let your local authorities know if you have absolutely any information.
The wanted list in Boise is actually much longer-- do you know or recognize any folks in the Boise's Most Wanted list? For some of these suspects, there may be rewards leading to the arrest of any of these individuals. See the list for yourself, below: 
LOOK: These 19 People Are Boise's Most Wanted
Yes, even here in the Treasure Valley where crime isn't so rampant, there is a most wanted list. According to the Southwest Idaho Crime Stoppers, these are the most wanted of them all. So many of these mugshots are from Ada and Canyon Counties. Do you recognize anyone?