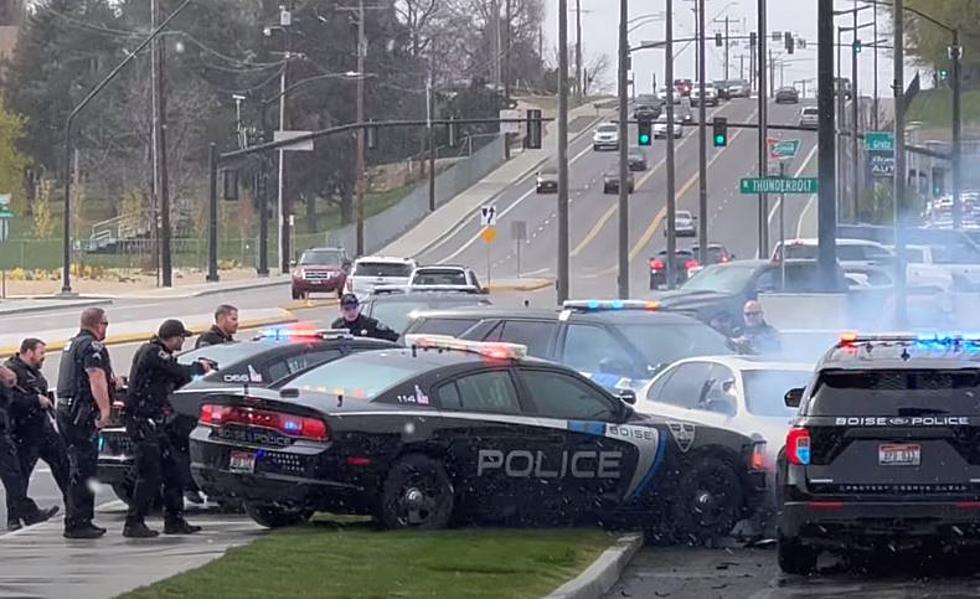 Insane Footage Captures High Speed Police Chase in Boise [Video]
Credit: YouTube / The Weather Show with Vin Crosby
When you think high speed chases, police pursuits, and fleeing suspects-- it isn't Boise, Idaho that comes to mind. Perhaps Los Angeles or Seattle? Well, on Palm Sunday this past week, Boise Police officers were a busy bunch, going after a suspect near Franklin Road and Cole Road.
Boise High Speed Chase Caught on Camera
On Sunday, April 10th, a high speed chase took place in the streets of Boise. The pursuit by Boise Police eventually ended near Bishop Kelly High School where more drama played out. Fantastic footage was captured by Vin Crosby, a well-known Boise meteorologist who said that during the chase, the suspect came within just feet of hitting him.
Check out the play-by-play and the action-packed video, below!
Footage like this from Boise is just insane! 
We're very glad that Boise Police officers were able to get this suspect into custody. However, nothing makes us happier than the fact that nobody was hurt in the process-- thank you for keeping the public safe in this peculiar situation, Boise Police Department.
While Boise Police were able to catch this suspect--there's an extensive "Most Wanted" list here in our area. Do you know or recognize anyone? Let's help Boise Police where we can to keep our streets safe. 
LOOK: These 19 People Are Boise's Most Wanted
Yes, even here in the Treasure Valley where crime isn't so rampant, there is a most wanted list. According to the Southwest Idaho Crime Stoppers, these are the most wanted of them all. So many of these mugshots are from Ada and Canyon Counties. Do you recognize anyone?
These 20 Crimes Are Still Unsolved in Boise
Can you identify anyone in these photos or surveillance videos? The Boise Police Department is hoping that you can give them a tip leading to more information! Who would have thought that the City of Boise would have so many unsolved crimes!
There is also a statewide list of Most Wanted folks, below: 
Idaho's Most Wanted
When it comes to the most wanted criminals in Idaho, the list according to the Idaho Department Corrections is short. There are a total of nine individuals who made the "Most Wanted" list. Do you recognize any of these fugitives? Some have only been on the run for a few months. Take a good look at the photos below and let your local authorities know if you have absolutely any information.