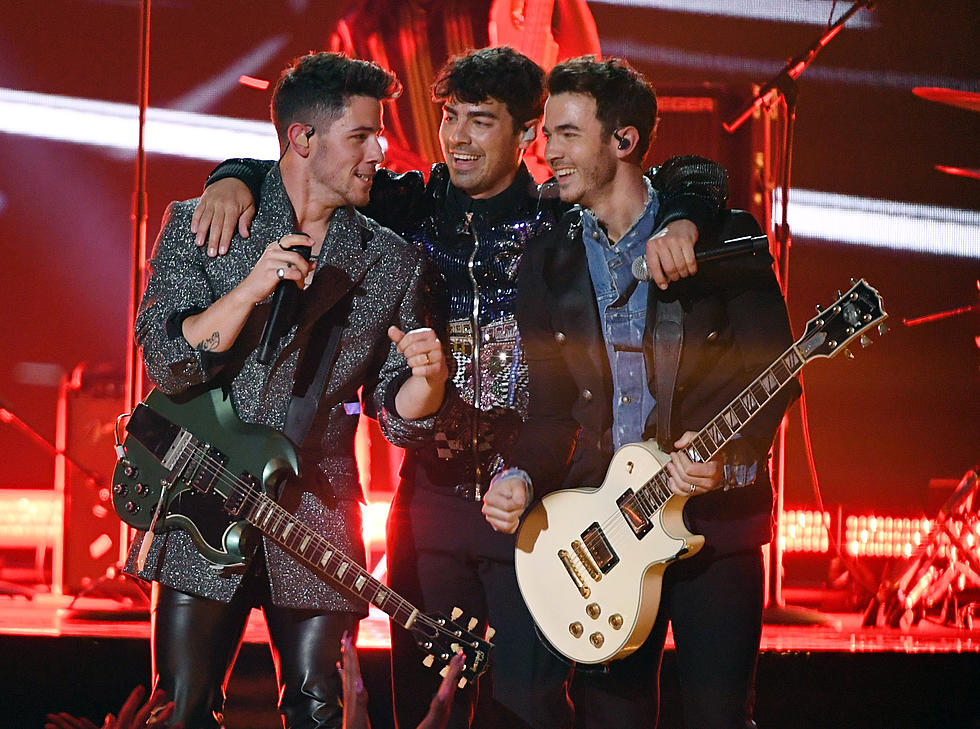 Win Your Way into the Jonas Brothers Concert from 107.9 LITE-FM!
Getty Images
Read Four Simple Phrases to Win Jonas Brothers Tickets!
You hear our voices on the radio all of the time, but we want to make you the star. Keep reading to find out how you can score a pair of tickets to see the Jonas Brothers at the Ford Idaho Center!
Earlier this summer, Jonas Brothers fans were CRUSHED when they found out that Nick, Joe and Kevin were in town for a private concert and none of us had a clue that they were coming! They played a special concert for Albertsons Boise Open sponsors that wasn't open to the public. Luckily, the guys announced that their "The Tour" tour is coming to the Ford Idaho Center Arena on November 5 not long after they were here in Boise.
Get on the Radio, Get Tickets!
We want to feature your voice saying our station name in between songs. Simply follow the steps below to be entered to win free tickets to see the Jonas Brothers at November 5 at the Ford Idaho Center.
Step 1
Download the 107.9 LITE-FM App. You'll need our free app to submit audio and be entered to win.
Step 2
Click the "Open Mic" button on the home screen of the app.
If prompted to "Create Account" follow the steps and make sure you completely fill out all of your information so we can contact you if you win.
Type the word "Jonas Brothers" in the Comments Box.
Step 3
Push record and read the following lines. Smile big while you're recording yourself and make sure you sound excited if you want to win the tickets! If it takes you more than 30 seconds to read all four lines, you can submit multiple files.
107.9 LITE-FM! (one-oh-seven-point-nine lite f-m!)
Hey! It's (your name) from (city you live in.) You're listening to 107.9 LITE-FM, Boise's Official Christmas Music Station!
Hey! It's (your name) from (your place of employment's name) and you're listening to 107.9 LITE-FM, Boise's feel-good, at work station! 
Tell us in a few sentences what you like best about our radio station. (If you like the music, tell us why. If you like a certain DJ, tell who/why. This is adlibbed, don't read this one word for word! Don't be shy!) 
If you're feeling nervous, I recorded an example of the energy (not necessarily the same prompts that we gave you above)  we're looking for that you can listen to before you do yours! Click play, below.
Step 4
Click "done" and "submit"  when you're happy with what you recorded! If you get a message that says "Error. Unable to upload media!" uninstall and reinstall the app. You may have an outdated version.
BOOM! That's it! Once you've submitted audio, your name will be entered to win Jonas Brothers tickets! Our winners will be selected randomly and notified via e-mail on Thursday, November 2!
By submitting your audio, you agree to let Townsquare Media use your voice on the radio. All submissions could be used on-air and online. The contest ends Wednesday, November 1 at 11:59 p.m. 
KEEP READING: Major Concerts Coming to the Boise Area in 2023
When it came to the sheer number of concerts, 2022 was a year that the Treasure Valley won't soon forget. But 2023? There are some BIG artists looking to make a splash in Idaho!
Gallery Credit: Michelle Heart
Major Concerts Coming to the Boise Area in 2024
More and more artists are finding their way to the Treasure Valley! Here's a look at who's coming our way in 2024.
Gallery Credit: Michelle Heart