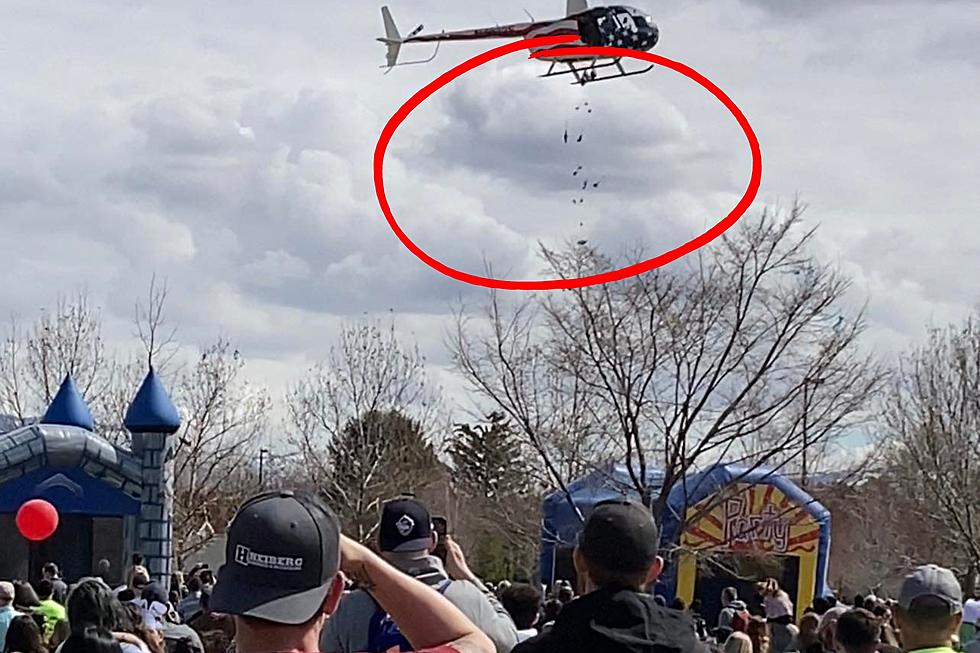 VIDEO: No One Puts On An Easter Egg Hunt Quite Like Meridian
Logan M./TSM Boise
It's Easter weekend and one of the largest egg hunts in the country took place at Kleiner Park in Meridian - the Capital Church Community Egg Hunt. Hundreds, if not thousands, gathered at Kleiner Park to participate in what turned out to be an incredible event complete with nearly perfect weather.
Sure, there were eggs... but there was also a freaking AIRDROP
You read that correctly. There was an airdrop, no, a freaking airdrop at Kleiner Park for the Capital Church Community Egg Hunt. No, seriously and the event was already spectacular up to that point.
There were moon bounces for the kids, there were several food trucks creating that festive (and delicious) aroma in the air, and the egg hunts themselves were fun and friendly. They even had mascot dance-offs which are awesome but that's not even the coolest part of the entire event.
As I'm walking around, I hear one of the volunteers telling everyone to make room for the helicopter... yes, a helicopter.
Here is what happened next...
No One Puts On An Easter Egg Hunt Quite Like Meridian
The 2023 Capital Church Community Egg Hunt was a huge success. Kids hunted eggs, played games, enjoyed food, and... had a helicopter airdrop?!
That's right, the helicopter airdropped vegetables. It's actually a genius move when you consider many of these kids will be chowing down on gobs of candy over the next week and a half. You've got to get them their greens somehow, right?
In the video below, you can see that some of the items being airdropped are on parachutes while others are not. Several people attempted to climb to retrieve the prizes and veggies that got stuck in trees.
It was a pretty cool way of reminding kids to eat their veggies and as you can see, several people were excited to pick up all of the items that came out of the chopper.
No one truly does Easter egg hunts like the people of Meridian. Shout out to all of the amazing people at Capital Church for putting on an amazing and successful family-friendly event.
What To Do When Friends & Family Come To Visit
I asked our listeners on Facebook, "When friends and family come to the Treasure Valley, where's the first place you're excited to take them?" Here are their answers.
Top 10 Most Affordable Towns in Idaho for Raising a Family
Here are the 10 Most Affordable Towns in Idaho according to
HomeSnacks
.
Fun, Outdoor Family Things to do Around Boise
Here are fantastic things to do outdoors perfect for families and kids.