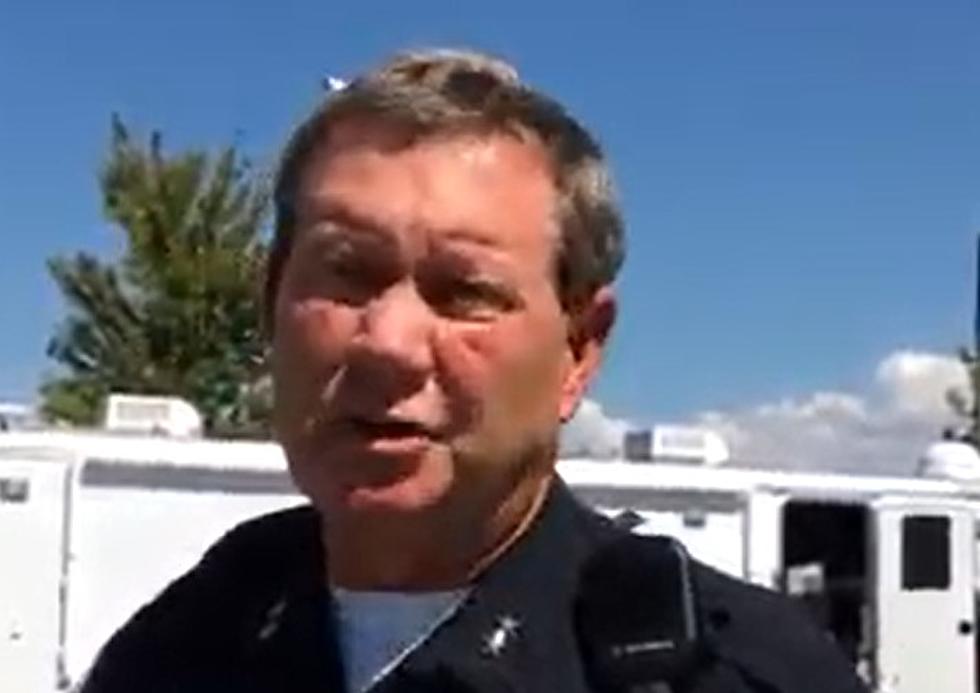 Former Boise Police Chief Challenges Mayor McLean's Reelection
YouTube/Idaho Statesman
Mike Masterson is now officially a declared candidate to replace Boise Mayor Lauren McLean. The former Boise Police Chief held his announcement today, joined by eighty supporters. Among those supporters were several prominent political public servants.
When you read this list of those who were there to support Mr. Masterson's campaign it is a who's who of Boise decision makers.  Let's review who has endorsed the former chief:
Former Idaho Attorney General Dave LeRoy, former Idaho Senator Maryanne Jordan, former Boise Mayor Dave Bieter, former Boise City Councilor Alan Shealy, former Boise City Councilor Dave Eberle, former Ada County Sheriff Gary Raney, former Boise Police Deputy Chief Patricia Braddock, Sergeant Kevin Holtry, Sergeant George Nickel, Shirly Blisterfeldt, and the Boise Police Local 486.
Lauren McLean's worst reelection nightmare has just happened with the announcement that former Boise Police Chief Mike Masterson will run for mayor. His announcement is a recognition of the lack of trust and her failed leadership during her first term in office. Undoubtedly, the power brokers and the public service unions have had it with the current Boise mayor.
6 Certain Factors That Could Derail Mayor McLean's Reelection
Any one of these major issues could cause her to lose.
Mr. Masterson is not a career politician and is enjoying his life in retirement. The former police chief is known for his continued volunteer work with adding Idaho veterans and skiing when he gets the chance. The former chief will be backed by a consortium of groups that current mayor has alienated during her brief term in office.
Mr. Masterson spoke of why he's running to replace Mayor McLean:
"I am a proven problem solver, and I am committed to working with you to find tangible and lasting solutions. 
Restoring the promise of Boise means electing a mayor who truly values our city and its people. We need a serious leader in City Hall, someone who understands the challenges we face and has the determination to overcome them. I am that leader.
I've been told I don't smile enough and I'm too serious. It's true. I've been conditioned by many years in policing to suppress emotions and focus on getting the job done. I do laugh and smile and even shed a few tears of joy and sorrow in private. But trust me, deep inside of here, I have boundless energy, a burning desire, and a deep passion to serve my community as your next mayor.
There is an urgent need for a vision that transcends party platforms and places the city's best interests above all else.  
Let us embark on this journey together to build a better Boise, where transparency, accountability, and collaboration become tenets of local government. Please join me. Tell your family and friends about our campaign. And vote Mike Masterson for mayor this November to restore the promise of Boise."
Mayor  McLean has announced that she will run again. The matchup with Mr. Masterson will be a classic contest. Mrs. McLean's priorities appear to be following Joe Biden's Climate Agenda while Mr. Masterson seeks to restore the trust and accountability within the Boise Police Department.
Mrs. McLean's promise of affordable housing hasn't happened during her time in office. Her claim to fame is Joe Biden funding the Micron expansion. However the public employee unions have not been a fan of her leadership. She replaced the fire and police chiefs. Her choice for police chief, Ryan Lee, was forced to resign.  
Mr. Masterson will position himself as a nonpartisan public servant while we expect Mrs. McLean to lean on her progressive and democratic supporters. 
Check Out Behind the Scenes of the Press Conference.
They announce an outside attorney will determine what happens to Boise PD.
A Look At The Free Car You Could Win at Boise Music Festival