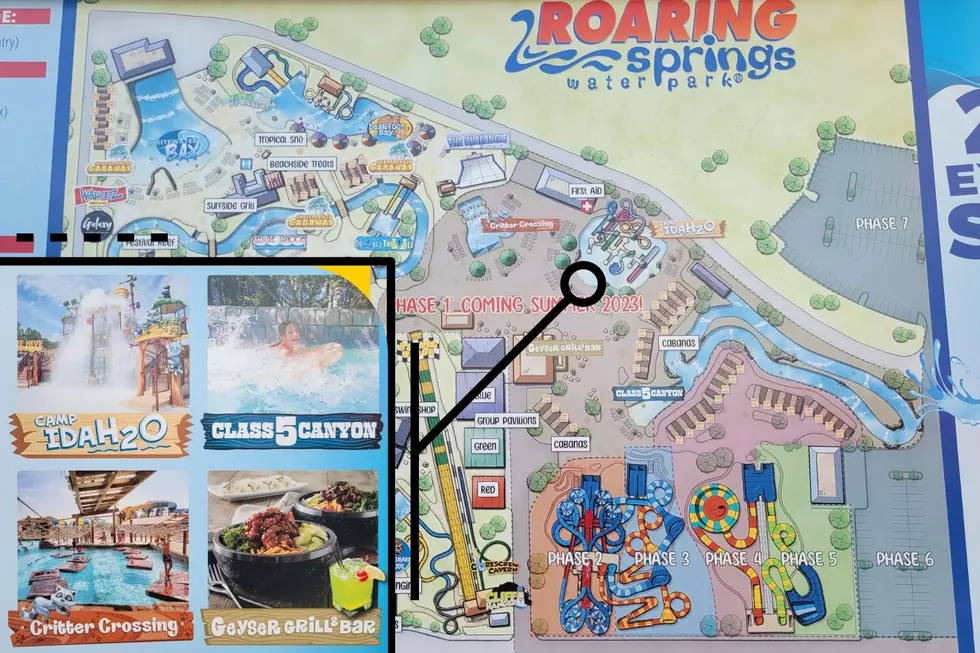 Check Out the Huge Changes Coming to Roaring Springs in Boise in 2023
Credit Roaring Springs
Roaring Springs Waterpark in Idaho is making big changes and expanding by 40 percent over the next few years with new slides, food options, additional parking, cabanas, and other fun water features. The changes will take place through 7 phases and the first phase is set to open in 2023.
LOOK: Roaring Springs in Boise has Huge Plans for the Summer of 2023
I was at Roaring Springs just a few weeks ago and construction equipment and parts could be seen in the area reserved for the waterpark additions. There were no new slides that I could see, but their website says they plan to have phase 1 open in 2023 with 3 water features, a new restaurant, cabanas, and more parking spaces Check out what it looks like now compared to what the finished products should look like below.
New Construction At Roaring Springs
The new construction at Roaring Springs will come in 7 phases, with the first phase to be finished in 2023. The new phases will add more waterslides, water attractions, food options, parking, and cabanas.
Roaring Springs in Boise has Huge Plans for Next Summer
In phase 1 of the new construction, Roaring Springs is adding Camp IdaH20, Class 5 Canyon, and Critter Crossing.
Camp IdaH20 At Roaring Springs
Camp Idah20 will be a water playground with an Idaho theme. Animals and birds will be included in the decoration, with 7 intermediate slides, 100 play features, and a huge 650-gallon tipping bucket shaped like a potato.
New Class 5 Canyon At Roaring Springs
The Class 5 Canyon will have whitewater waves and visitors can use kickboards to navigate the ride.
Critter Crossing at Roaring Springs
The new activity pool at Roaring Springs will be called Critter Crossing and it will have a forest theme. There will also be skill-based water challenges and water basketball.
New Geyser Grill Restaurant at Roaring Springs
Geyser Grill will be the new restaurant in phase 1 of expansion at Roaring Springs. The restaurant will offer burgers, fries, pizza, rice bowls, pot stickers, and a bar with Idaho-inspired drinks.
Check out this video explaining the construction progress.
How To Get Discount Season Passes To Roaring Springs
Discount season passes to Roaring Springs can be purchased through the end of 2022 for $159.99. After the start of the new year, the prices will go up by $10 in the spring and $10 more in the summer. Information and tickets can be purchased on the Roaring Springs website.
Best Rides At Roaring Springs
Best Rides At Lagoon Amusement Park