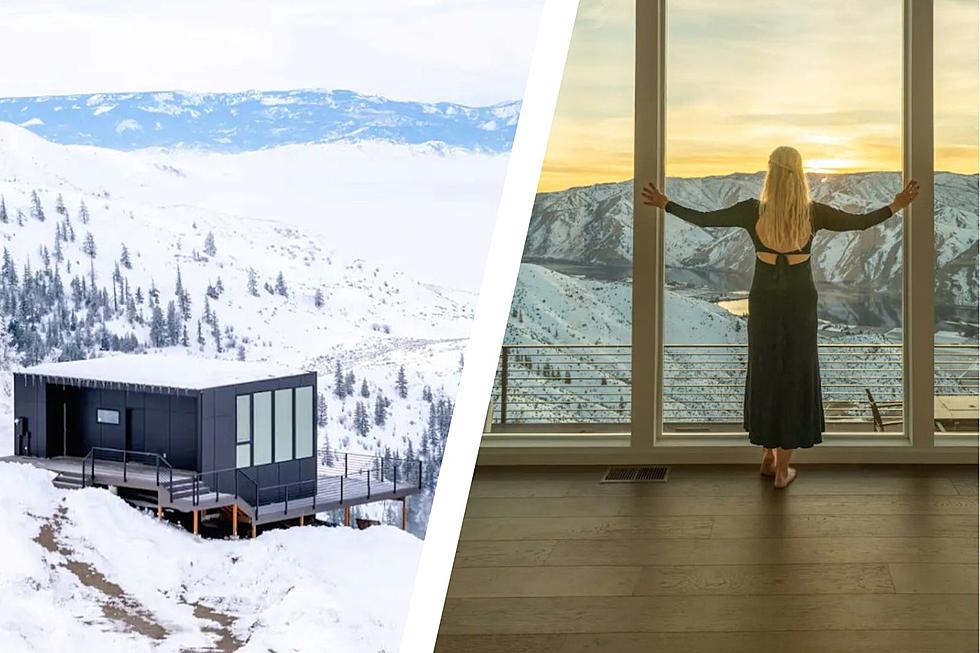 Energize Your Love Life At This Airbnb 7 Hours From Boise
Canva/Airbnb/Hans
This incredible Airbnb will have you wanting to jump into your vehicle and immediately drive to central Washington. It's a short 7 hours drive from Boise, which will change depending on the weather, but I will try to talk my wife into making this trip as soon as possible, and you'll see why. 
Earthlight Villa is located along the beautiful Columbia River near Orondo, Washington, on top of Pioneer Ridge. This Airbnb is where nature meets luxury living with floor-to-ceiling windows, panoramic views of Cascade Mountain, and a modern kitchen with sleek lines. 
It's perfect for a romantic getaway or a small family outing. Surrounded by wineries and hiking, there's something for everyone. Hans, the Airbnb Host, says, "our completely open floor plan features a glass shower, free-standing tub, and modern kitchen, all with panoramic views of snow-capped mountains and the river below. Our deck is legendary - soak in the views from the jacuzzi or our lounge chairs, and cozy up in front of the fire pit." 
I had already started planning this trip with my wife in my head and figured out who I could get to watch our dogs for a long weekend until I read, "ONLY dogs are allowed with an additional charge of $50/dog/stay. Other pets are not permitted. Dogs are NOT allowed on the bed or any other furniture. Should a violation occur, a $300 fine will be applied for extra cleaning." Don't worry, Hans, the dog beds will be coming with us. 
Think again if you thought it would be a fun trip this year. Earthlight Villas is booked through the rest of 2023 and has limited availability in the early parts of next year.
Earthlight Airbnb 7 Hours From Boise
Located near Orondo, Washington, with breathtaking views, this Airbnb feels secluded, but you're surrounded by plenty to do.
The Klickitat Treehouse
Check out this awesome Airbnb just hours away from Boise.
Peek Inside Idaho's Most Expensive Cabin on Airbnb
When 24/7 Tempo put together their list of most beautiful cabins in America, they chose a
modest cabin in Cascade
as Idaho's best cabin. We truly expected them to pick something a little more luxurious, so we hunted down the most expensive in the "Cabin" rental section of Airbnb. For Summer 2022, it was this cabin in Victor.